Spring is rolling through fast, which means longer, balmier days spent out with family and friends. And what better way to embrace the warmer weather than with live music? Take a look at what's jamming around the city centre to get you in that swinging mood.
Cassette Nine
9 Vulcan Lane
Cassette Nine on Vulcan Lane is famous around town for its teapots, sure, but its schedule is also packed with live music gigs. When nightfall comes, Cassette Nine turns into a thriving nightlife venue. Cassette Nine attracts on stage a range of quality musicians, performing anything from gentle indie rock to head-thumping party beats. One thing that is constant – the Cassette Nine crowd is always up for a wild time!
St Matthew-in-the-City
187 Federal Street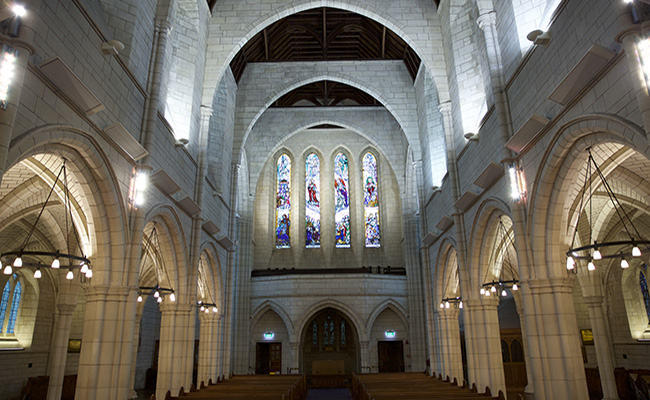 If you prefer your Bach and other classical music over Bieber, Katy Perry and more, fear not, as there is always something in the central city for you to come in and enjoy. The majestic venue of St Matthew-in-the-City is hosting a Candlelight Music Series under it's iconic high vaulted ceilings.
Sweat Shop Brew Bar
7 Sale Street
Sweat Shop Brew Bar is alive most nights of the week, but  every Friday night this Sale St corner joint is  the home to The Beat Council from 10pm to midnight, The Beat Council drops by for two hours of genre mashups that will have you dancing around to 70's music one minute to Top 40 hits the next. We promise you that it will be a fun Friday night!
Wynyard Grill by Johnny Barr's
142 Halsey Street
Come down and enjoy live jazz music every Thursday night at Wynyard Grill on Halsey Street. Book a table or sit at the bar and enjoy a night of beautiful jazz. Our favourite thing to do is to get a cheese platter, a bottle of wine and let the singer's voice mesmerize us. A magical atmosphere guaranteed!
The Occidental
 6-8 Vulcan Lane
Saturday night at The Occidental is unbeatable with live music from 9pm to midnight. Come early to get a table (it gets pretty busy once the music starts) and sip on one of their mouth-watering Belgian beers on tap. Feeling a bit hungry? The food menu features authentic Belgian cuisine along with traditional pub favourites and late night eats. Why not try one of their signature steaming mussel pots or famous mussel platters? They're delicious!
The Lula Inn
149 Quay Street
Every Thursday from 8pm you can enjoy a real-life Jukebox band that will play nothing but songs requested by you! So kick it off with a ballad, bring back the old-school then take it home with a banger and dance the night away. Simply write your requests, hand it to the band and enjoy the songs you love being played live.
Last updated:
15 October 2020