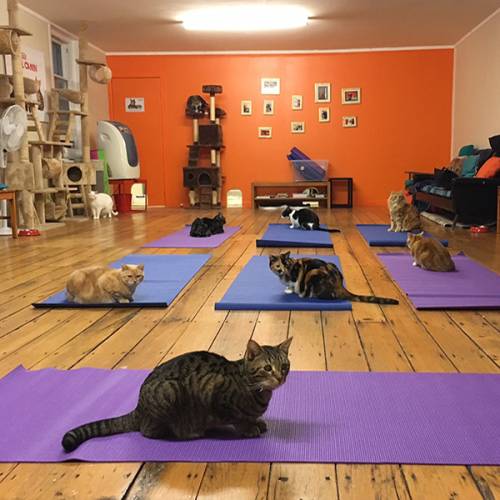 There is a fun exercise trend of gathering friends and felines together for yoga which is now a regular Monday event at BaristaCats Café, Auckland's Central Cat Café. 
Studies have shown that yoga not only improves your balance, breathing and overall health but also reduces stress levels and anxiety. Similarly spending time with animals is proven to lower blood pressure and release endorphins. Bring both together and you've got cat yoga - the purrrfect dose of fitness and relaxation therapy. 
The class is taught by Eleanor Ashdown who specializes in the hatha yoga style. She tailors the class to both suit the participants' experience and skill level as well as to involve the 14 resident cats. From child's pose to the shavasana, be prepared to share your mat with a cat or two. When she's not teaching at BaristaCats, she teaches at Hot Yoga Works on 13 Commerce Street. Ashdown has been teaching yoga for almost a year after attending an intensive teacher training course in India. She is also a feline fanatic so she is thrilled to have the opportunity to combine her two loves.
For those who would like to spend some quality time with the café's very special cats, there will be plenty of opportunity to do so after the class while you enjoy a refreshing iced tea. The kitties are all rescue cats with quirky and colourful personalities which you can read about in booklets that are scattered around the space. Many of them have special needs and have had a rough start to life prior to moving in to BaristaCats so it is great to see them have a new lease of life and enjoy the company of us humans.  
Cat yoga runs every Monday (excluding public holidays) and is $20 per person. Class starts promptly at 5:30pm and runs for approximately 45 minutes. There is a limited capacity per class so booking is essential.
Last updated:
23 March 2023