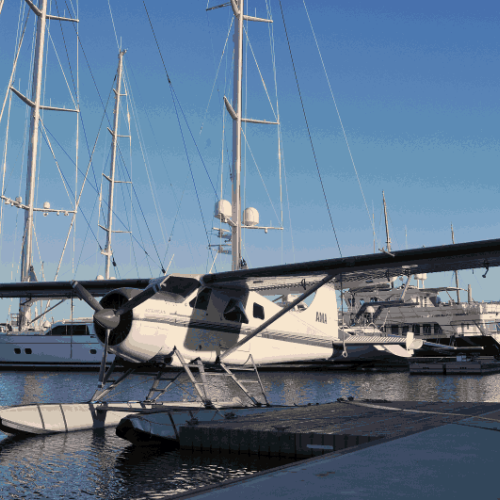 Auckland Seaplanes is a re-established seaplane operation in the Auckland CBD area. Providing scenic flights, island lunches, adventure trips, island-hopping experiences, island escapes and charter services over the breath-taking land of Aotearoa, the service runs year around and on demand. 
The De Havilland Beaver Floatplane comfortably seats 6 adults to breath-taking Island destinations. Scenic flights give a unique experience as you fly over the mesmerizing Hauraki Gulf islands and volcano. Additionally you can travel with friends for an island get-away to enjoy lunches and wine tastings to Waiheke Island.
Also on offer are transfers, adventure trips and charter services to destinations such as Great Barrier Island, Kawau, Rakino, Rotoroa, the Coromandel Penisula, the Bay of Islands and more.
With an ease to transport more than 600kg of equipment, the aircraft is a perfect choice for your planned fishing outing, surfing trip, film and TV production, research as well as your desired personal and corporate observation flights
Last updated:
01 July 2019